MARTHA EARLE BOWMAN MCKINNON
AAFA #1117
1921 NC – 2015 NC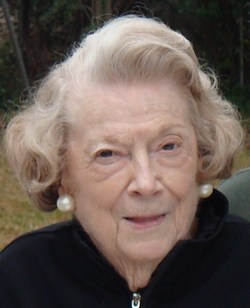 Photo from her obituary
THE ROBESONIAN
Lumberton, Robeson Co., NC—22 January 2015
LUMBERTON—Martha Bowman McKinnon, 93, died peacefully at her Wesley Pines home in Lumberton, North Carolina, on Tuesday, January 20, 2015, after a brief period of declining health.
            Born April 4th, 1921 in McDonald, North Carolina, to Dr. Earle Ledbetter Bowman and Bernice Smith Bowman. Martha graduated from Lumberton High School and later, in 1942, from Salem College. After college and working briefly in Richmond, Virginia, she returned to Lumberton and soon married her beloved "Sandy" on November 13, 1948.
            She was a contributing member of the community and an active, lifelong member of the Chestnut Street United Methodist Church. Martha's greatness, however, lay with her genuine love for all whom she met. She knew no strangers, and her indelible smile, genuine warmth, and graciousness were the gifts she shared with all who knew her.
            Martha was preceded in death by her husband, Judge Henry Alexander "Sandy" McKinnon, Jr., one brother, William Murphy Bowman, and a sister, Mary Kime Harris.
            Martha is survived by Mr. and Mrs. John Borden McKinnon of Winston-Salem, NC, brother-in-law and sister-in-law; Oriana McKinnon of Norfolk, Virginia, sister-in-law; twelve nieces and nephews: Colin McKinnon and wife Patt, Borden McKinnon and wife Lisa, Henry McKinnon, Alex McKinnon and wife Deirdre, Margaret McKinnon Gardner and husband David, Grace McKinnon Andringa and husband Mark , Betty Bowman Gray and husband Dial, Ann Bowman Fitzsimmons and husband Jean, Earle Bowman, Carey Bowman O'Reilly and husband Chris, Deborah Harris Baugh and husband Joe, and Martha Kime Harris Shatto; her very dear friends, Melissa and Bill Howell of Lumberton, plus numerous great-nieces and nephews.
            A memorial service will be conducted at 11 a.m. Saturday at Chestnut Street United Methodist Church, the Revs. Steve Little and Jimmy R. Tatum officiating. Private interment will follow at Oak Grove Cemetery in Maxton. Floyd Mortuary & Crematory of Lumberton will handle the arrangements. In lieu of flowers, memorial contributions are welcome at Chestnut Street United Methodist Church, 200 E. Eight St., Lumberton, N.C., 28359; Wesley Pines Retirement Community, 1000 Wesley Pines Road, Lumberton, N.C., 28358; and Salem College, 601 S. Church St., Winston-Salem, N.C., 27101.
            The family is deeply grateful for the outpouring of love, prayers, and support in many forms from too many people to name individually, but including the Southeastern Hospice staff and very special caregivers Josephine Fowler, Ashley Carroll, Jennifer Taylor, Amanda Herring, and Betsy Taylor….
FAG photo requested 5/13/2018
AAFA NOTES: SSDI records do not yet list her death.
            Martha is descended from Charles Thompson and Charity Alford of NC.
            Her Alford lineage, from her 4th great-grandmother: Charity 1776 NC7, Jacob 1738 VA8, Lodwick 1710 VA9, James 1687 VA10, John 1645 VA11.