FRANCES WILLARD ALFORD FRANKLIN
AAFA #0799
1932 MS –2008 MO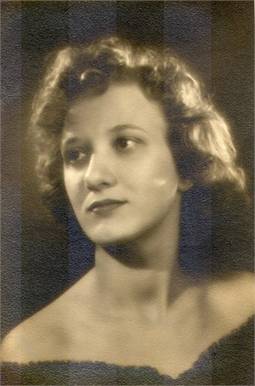 Photo from her niece JoLynn Alford Long, AAFA #0718
THE BOLIVAR COMMERCIAL
Bolivar Co., MS—Monday, 20 October 1997
            Frances Willard Franklin, 69, a native of Shaw (Miss.) died Friday, October 17, 1997, at St. John's Regional Care Center in Springfield, Mo.
            Funeral services were at 2 p.m. today at the Cantlon Funeral Chapel.... Burial followed in Mt. Olive Cemetery under the direction of Cantlon Funeral Home of Buffalo.
            Franklin, daughter of the late Elbert Robert and Annie Willard (Wiggins) Alford, was born on Dec. 19, 1927, in Shaw. She was a graduate of Shaw High School and was married to Charles Bruce Franklin, Sr. on June 8, 1951, in Gulfport. She spent her married years in Pascagoula, moving to Springfield, Mo., after the death of her husband in 1985. She worked as a nanny for several years.
            She was a member of Eastern Gate Baptist Church in Springfield. In addition to her parents and husband, she was preceded in death by a brother, Elbert, and a sister, Mary Alice Morgan.
            She is survived by two sons, Bruce Franklin, Jr. of Warrensburg, Mo., and Blair Franklin of Springfield, Mo.; a daughter, Brenda Sue Johnson of Pascagoula; two brothers, Claude Hines Alford, Sr., of Bolivar, Mo., and John Wiggins Alford of La Mesa, Calif., and five grandchildren and three great-grandchildren.
            Pallbearers were: Bruce Franklin, Jr., Brian Burroughs, Chris Pratt, Blair Franklin, Dennis Taylor, Johnny Johnson and David Tower.
Photo from Mount Olive Cemetery, Olive, Dallas Co., MO—www.findagrave.com
Permission granted by the photographer, Mardi
AAFA NOTES: SSDI records confirm the birth and death dates of Frances A. Franklin (SS# issued in MS).
            We included the obituaries of her brother Claude Hines Alford Sr. in Missouri Obituaries; and her brother Elbert Robert Alford Jr. in Texas Obituaries.
            Her father, Elbert Robert Alford, was born June 26, 1897 in Rounsaville, Greene Co., MS, married Annie Willard Wiggins Dec. 21, 1919 in Shaw, Bolivar Co., MS, and died Mar. 13, 1941 in Oteen, Buncomb Co., NC. Elbert Robert was the son of Ephraim D. Alford b. 1829 in SC and Frances V. Reed.
            Her lineage: Frances Willard 1927 MS1, Elbert Robert 1897 MS2, Ephraim D. 1829 SC3.
The following was written by her sister-in-law Jo Howell Alford, mother of  JoLynn Alford Long, AAFA #0718:
            Frances Willard Alford was born in Shaw, Mississippi on December 19, 1927. She was the fourth child and first daughter of Elbert Robert and Annie Willard Wiggins Alford.
            She has told many times of being switched a bit for stopping to play on her way from school, but never told many other stories of her young childhood.
            She graduated from Shaw High School and trained as a hair stylist. She was an excellent stylist, for she had the talent and the patience to make her customers happy.
            At one time she lived and worked in Vicksburg, Mississippi until she moved with her older brother and his wife and children to Tacoma, Washington for a few months.
            She worked in Gulfport, Mississippi and there met her husband, Charles Bruce Franklin. They were married on June 8, 1951. They lived in several places but wherever she went, she always made lifetime friends. They had three children and she was a wonderful mother.
            They lived in Tallahassee, Florida for quite a number of years, and she was happy in the sunshine country. She loved the sun and water, and would stay in the sun as long as she could all the time.
            She didn't have nearly as much time here on earth as those of us who loved her would want for her, but I feel like God needed her for some tasks up there. She had many physical problems but fought them always. Finally, they won out and we lost her.
            Sister was the most loving, giving person I've ever known and all of us will miss her always. Everyone should have her kindness, patience and loving nature, or at least, some of it.
            There will be another "Sister". She was known far and wide by that name, and she treated every person she knew as a sister.