PEARL NIX "NIXIE" ALFORD ALLBRITTON
AAFA #0450
1911 MS – 2010 MS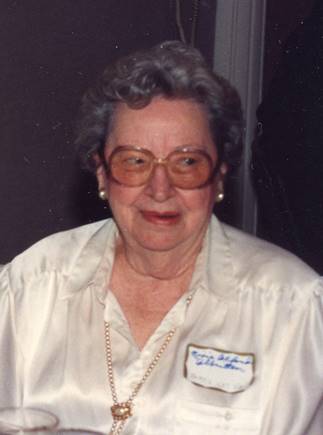 Photo from AAFA files
HATTIESBURG AMERICAN
Hattiesburg, Forrest Co., MS—7 February 2010
HATTIESBURG—Graveside services are 11 a.m. Monday at Georgetown City Cemetery for Pearl Alford "Nixie" Allbritton, 98, of Hattiesburg, formerly of Hazlehurst, who died Feb. 5, 2010, at Emeritus Health Care.
            Burial is in Georgetown City Cemetery in Georgetown.
            Mrs. Allbritton was a homemaker and member of First Baptist Church in Hazlehurst. She was a volunteer for the American Heart Association.
            Survivors include a daughter, Mrs. Charles Ervin Thomas Sr. (Linda Allbritton) of Hattiesburg; four grandchildren; eight great-grandchildren; and one great-great-grandchild.
            She was preceded in death by her husband, J. Ray Allbritton; and parents, Dr. Julius Alford and Pearl Alford.
            Visitation is 2-5 p.m. today at 511 Cox Avenue in Hattiesburg at the residence of her daughter, Mrs. Charles Ervin Thomas Sr.
            Memorials may be made to the American Heart Association or to Bethany Christian Services of Hattiesburg.
            Moore Funeral Home is handling arrangements.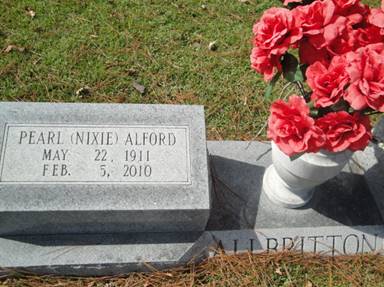 Photos from Georgetown Cemetery, Georgetown, Copiah Co., MS—www.findagrave.com
Permission granted by the photographer, Betty
AAFA NOTES: SSDI records show that Pearl N. Allbritton (SS# issued in MS) was born 22 May 1911, last residence Hattiesburg, Forrest Co., MS.
            Her husband was John Ray Allbritton (1906–1978). Her parents were Julius Whitford Alford and Pearl W. Nix.
            Her lineage: Pearl Nix 1911 MS1, Julius Whitford 1868 MS2, James Thomas 1840 MS3, Julius Caesar 1808 NC4, James 1764 NC5, Jacob 1738 VA6, Lodwick 1710 VA7, James 1687 VA8, John 1645 VA9.