WILLIE MARSHALL ALFORD
AAFA #0128
1919 MS –1995 FL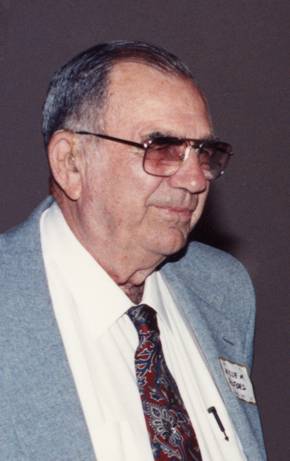 THE HERALD
Bradenton, Manatee Co., FL—Tuesday, 21 February 1995
            Willie Marshall Alford, 75, of Bradenton, died Feb. 19, 1995, in Manatee Memorial Hospital. Visitation will be 6–8 p.m. today at Bradenton Funeral Home, 5100 Cortex Road. Service will be 11 a.m. Wednesday at the funeral home.... Burial will be in Skyway Memorial Gardens, Palmetto....
            Born in Hinds County, Miss., Mr. Alford came to Manatee County from Fort Myers in 1967. He was retired from Gator Asphalt Co., in 1983 after 16 years. He was a member of Southside Baptist Church in Bradenton. He was a veteran of World War II and Korean War.
            He is survived by his wife, Beatrice V.; a daughter, Diane Thiers of Bradenton; two sons, Butch, of Fort Myers and Randy, of Bradenton; three sisters, E. Margarite Bishop and Verdie E. Dees, both of Jackson, Miss., and Susie L. Conley of Crystal Springs, Miss.; two brothers, Ralph E. and Robert S., both of Jackson; and nine grandchildren.
AAFA NOTES: SSDI records show that Willie M. Alford (SS# issued in MS) was born 18 Nov 1919, last residence Bradenton, Manatee Co., FL.
            We included the obituaries of his siblings Glenn Warren Alford, Mary Mae Alford Edwards, and Virdie Eugenia "Sweet Pea" Alford Dees in Mississippi Obituaries.
From AAFA ACTION, Issue #31, written by Gil Alford (we also published an article about Willie in Summer 1995, Issue #29):
      Willie was the son of Nathan Bell Alford and Susie Mae Overby. He married Beatrice Virginia Ponder Alford on 3 December 1945 in Brandon, Rankin Co., MS. They had three children:
William Marshall Alford born 5 June 1947
Carolyn Diane Alford born 4 August 1950
David Randall Alford born 10 June 1953
      He was born and raised on a farm near Jackson, MS, and spent the first 20 years of his life there. He was attending school in Terry, MS, but he left when he was 17 and worked painting houses. On 29 November 1939, just after his 20th birthday, he joined the U.S. Army and spent the next nine years in service. He served in England, France, and Belgium in late 1944 and 1945, returning to the states in November 1945.
      He remained in service and was with the occupation forces in Japan in 1946 and 1947. He returned to the United States and was discharged in July 1948. He completed the mechanics courses at the Armored Forces School, Ft. Knox, Kentucky and the Tank School, Detroit, Michigan, and was a master mechanic and a tractor mechanic.
      He served as a master sergeant, the highest enlisted rank possible, with the 3509th Ordnance Medium Automotive Maintenance Company, the 703rd Ordnance Maintenance Company, and with the 8th Army Auto Maintenance School in Japan. He was qualified as a sharpshooter with the US Caliber 30 carbine. He continued his service in the inactive Army reserves and was recalled to active duty in September 1950 when he was sent to Korea. He served in Korea from November 1950 through March 1951. He returned to the states and was discharged again. He was awarded the World War II Victory Medal, the Army of Occupation Medal - Japan, Good Conduct Medal, Bronze Service Star for the Rhineland Campaign, and the Korean Service Medal.
      Between his tours of duty with the army, Willie worked as a truck driver for the Dunn Construction Company, a road construction company, and he went back to work for them when he returned from Korea. From 1951 to 1967 he held all kinds of jobs in road construction from truck driver to general superintendent and worked in Alabama, Georgia and Florida. In November of 1967 he moved to a new company, General Asphalt, as Vice President of Construction and spent the next 15 years in that job, spending considerable time traveling for the company.
      He was an avid bowler and taught his children to love and enjoy the sport. When serving in the army in Japan he worked as a pin setter at the local G.I. bowling alley. In 1970 he took up golf and played at every opportunity until a bad ankle began to pain too much. He was on the Bay Pines course in Orlando when he had his first heart attack in 1974.
      His second cousin Cecil Wylie Alford [AAFA #0012], of Denver, Colorado, introduced Willie to AAFA in January 1989. In the short six years that followed many in AAFA became acquainted with Willie. They came to respect, admire, and love him for his friendly, cooperative, "can do" spirit.
      When he submitted his application for membership, a letter came along with it saying, "I don't know how good I will be as I have dodged administrative work when possible—altho I have had to do some in the past. With some help from you and others I will be willing to try to fill the job as Cemetery Project Officer for the state of Florida, if there is no one else to take the job."
      I a month later in February, he wrote, "If you do not as yet have a Cemetery Project Officer for Mississippi, I would be glad to take both Florida and Mississippi to get things started. I was raised in Mississippi and possibly could get some help in searching some of the cemeteries."
      In a later February letter: "I am working on some addresses here in Florida and keep trying to send out a few letters trying to reach some new members." Still in February: "I received your letter yesterday and also the Founding Membership Certificate which I am proud of. I will as I have time be trying to recruit some new members both here and back in Mississippi.... I will write to several papers here in Florida and see if I can find some with a genealogical columnist. I have a lot to learn but am willing to help wherever I can."
      He served AAFA as representative for the State of Florida. He assisted the editor of the quarterly by typing numerous files into computer records and assisted the census team by entering thousands of census records into the computer. He was also the member responsible for maintaining the master computer genealogy files for his main branch of the family. He acquired and provided AAFA records, such as death certificates, for many Mississippi Alfords. He was a close and much loved friend of many Association members, and he will be greatly missed.
The following was written by fellow church member Clifford D. Boyer and read at the funeral (Willie was often called Marshall):
THE HOME GOING OF MARSHALL ALFORD
He has kept the faith and fought the good fight
His joy is not complete.
His face reflects the perfect light
That comes from the mercy seat.,
He was a builder of roads and character too
To this his grandchildren can attest.
Many lives, not just a few
Through Marshall all will be blessed.
His smile was sweet, his hand shake the same
They lit up the church Sunday mornings
No one can see the awful pain
At times it struck without warning.
In latter times, voices sweet slowly slipped away.
And Jesus's voice came loud and sweet
"It's time to fly away."
From a newspaper article, source and date unknown
For the first time in seven years Master Sgt. N.B. Alford of Jackson was reunited with three of his four brothers. Sgt. Alford is stationed at the Galveston, Tex., Army Air Field.
Those making the visit were Tech, Sgt. Willie M. Alford of Ft. Benning, Ga., Chief Petty Officer Ralph E. Alford on 30-day leave, and Robert S. Alford, an aircraft company employee of Dallas. His eldest brother, Tech. Sgt. Glenn W. Alford, stationed at McKenny, Tex. was unable to come.
Sergeant Alford is at present serving at the Galveston Army Air Field, Galveston, Tex., in the capacity of group radio inspector of the ... Fighter Bombing Group, and has seen service since 1933. Having enlisted at Fort Benning, Georgia has served at various fields throughout the United States and in Puerto Rico. Not since 1937 has he been able to arrange to be with as many brothers at the same time. Since 1933, he has seen his mother and father and five sisters but twice--when transferred from Lakeland Army Air Field to Galveston Army Air field and one overnight stop at Jackson Air base while flying as radio operator in May, 1942.
Willie S. Alford has served the past-four years with the Ordnance Service Maintenance branch of the service. At present, he is stationed at Fort Benning, and on furlough, thus making it possible for him to attend the "get-together."
Chief Petty Officer Alford of the Maritime service, now on a 30-day leave, has spent the past seven months in North Africa, Sicily and Italy.
To complete the foursome, was the youngest brother, Robert S. Alford, age 16, an employee of the North American Aircraft Company in Dallas. He is "marking time" until March, when he will be 17 years of age and eligible to enlist in the navy.
The eldest of the boys, Technical Sergeant Glenn W. Alford, who enlisted in the armed forces in 1943, could not attend due to the fulfillment of his duties at the Ashburn hospital, McKenney, where he is now stationed. Medical Corpsman Sergeant Glenn was stationed in Hawaii at the time of the attack on Pearl Harbor and was rushed to Hickam Field to attend the wounded. Robert and Sergeant Glenn see each other quite often in Dallas.
Sergeant Willie M. and Chief Perry Officer Ralph E. accompanied by their respective fiancees, Misses Irene and Beatrice Ponder of Jackson, first visited Robert and Glenn at Dallas and took Robert along to visit Master Sgt. N. B. in Galveston. They had a good time, except for the difficulty in getting Robert into the various night-clubs in town because of his age.
Master Sergeant Alford recently became the proud father of an 8-pound 10-ounce baby boy. Mrs. Alford is now living with her parents in Tampa, Fla., and hopes to soon return to the side of her husband.
            For more information about this family, see AAFA's published genealogy, Known Descendants of Isham Alford (1755–1832).
            His lineage: Willie Marshall 1919 MS1 Nathan Bell 1886 MS2 Warren Jefferson 1863 MS3 Warren Jefferson 1831 GA4, Spire Washington 1807 GA5, Brittain Washington 1782 NC6, Isham 1755 NC7.