CHRISTIE WILSON ALFORD BALDWIN
AAFA #0006
1906 TN – 2008 OK
Christie and Paul Baldwin
November 1993
THE OKLAHOMAN
Oklahoma City, Cleveland Co., OK—Thursday, 21 February 2008
            Christie Baldwin, 101, died February 18, 2008. She was born February 28, 1906 of John Robert Alford and Lavona Alford. She was predeceased by her parents, husband, Paul Baldwin, one brother and one sister.
            Christie worked for Walter Investment Farm Mortgage Company until 1974. She was a member of the Auxiliary of National Association of Letter Carriers and was active in the National Association of Retired Federal Employees. Christie was also active in the women's group of Penn Ave. Christian Church. She loved to travel, reading, flowers, crafts of all kinds and was very interested in genealogy.
            She is survived by nieces, nephews and many loving friends.
            Visitation will be in the funeral home Thursday, February 21, 2008, from 9 am - 8 pm. A funeral service will be held Fri., Feb. 22, 2008, at 10:00 a.m. in the Guardian West Funeral Home Chapel. Interment will follow at Memorial Park Cemetery.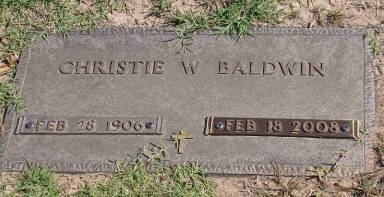 Photo from Memorial Park Cemetery, Bartlesville, Washington Co., OK—www.findagrave.com
Permission granted by the photographer, Agent 99
AAFA NOTES: SSDI records confirm the birth and death dates of Christie Baldwin (SS# issued in OK), last residence Oklahoma City, Cleveland Co., OK.
            Christie was an early and avid AAFA member and contributed much material from her personal research. At the 1997 Annual Meeting in Pleasanton, CA, Christie was in the first group honored as Distinguished Members of AAFA, recognizing her early research efforts.
            Christie wrote a short autobiography for AAFA's "Getting To Know" series that we published in AAFA ACTION, Fall 2000.
            For more information about this family, see AAFA's published genealogy, Known Descendants of Bailey Alford & Nancy Williams.
            Her lineage: Christie Wilson 1906 TN1, John Robert 1860 TN2, Eley Harrison 1820 TN3, Ira Bailey 1781 NC4, Isaac 1748 NC5, Julius 1717 VA6, James 1687 VA7, John 1645 VA8.